After many years of talking about going to Harbin, China for the International Snow and Ice Festival, my mom and I finally made our way there this past January. The Harbin Snow and Ice Festival is an annual event that takes place over the winter months, from December to February every year. No words can describe how amazing the ice sculptures and ice buildings are at the festival, and no pictures can do it justice, so I highly recommend going there in person! Here is the 4-day itinerary my mom and I followed for our trip to Harbin. For this trip, we have decided to sign up for a Wing On tour from Hong Kong, so this is an itinerary built by this tour company. However, it wouldn't be too hard to build your own itinerary if you wish to travel without a tour group, which I highly recommend. In a nutshell, our 4 day itinerary consisted of 2 days in Harbin, 2 travel days, and 3 overnight stays at the Sheraton.
Day 1: Travel day – fly from Hong Kong to Chang Chun
The Hong Kong tour we flew into Chang Chun airport (CGQ), which is 4.5 hours by flight from Hong Kong. There is an airport in Harbin, but it is cheaper to fly into Chang Chun, which is about 3 hours away from Harbin. Since we have a chartered bus and I wouldn't have to drive, I didn't mind this itinerary. However if you are pressed on time and you don't mind paying a bit more (also flights are limited), it might make sense for you to fly directly into Harbin.
That night we stayed at the Sheraton in Chang Chun. This hotel is pretty nice – relatively new with spacious rooms and amenities like spa and pool. It also has a really nice breakfast buffet! (Dinner was really good too – we ate in one of the private dining rooms at the hotel for dinner this night.)
Day 2: Explore Harbin
We left Chang Chun early in the morning to drive 3 hours into Harbin. The first stop is Volga Manor – a theme park-like village/garden with a Russian theme, complete with Russian hotels, cuisine and cathedral. Given Harbin's proximity to Russia, it has a lot of Russian influences, which this park showcases. We spent the morning/early afternoon sightseeing around the village, eating Russian cuisine at a Russian-themed restaurant, tubing, and trying out skiing. Though a bit touristy, it was quite nice, and I had a great time! Maybe it was the time of day we went, but the park wasn't very busy, so we had a peaceful walk around.
After fun snow activities at Volga Manor, we headed out to the main attraction we all went to Harbin for – the International Ice and Snow Festival! Check it out!
For our 2 nights in Harbin, we stayed at the Sheraton in Harbin. It is an older hotel when compared to the one in Chang Chun, and the rooms were smaller. However it was still quite comfortable and the breakfast buffet was still amazing. 🙂
Day 3: Explore Harbin
We had a full day to explore Harbin on this day, and we made the best out of it.
We started off the morning going to an ice field to watch ice fishing. The fisherman would dig holes in the ice and throw nets in the water underneath to catch fish. The net is left out overnight, and in the morning, the fishermen would dig the hole again (it freezes over every night) to retrieve the already cast net. In the net there will be fish! Now, some say it's a gimmick and they place the fish on the net before showing us, so you will have to be the judge to see if this is real or not.
Here are some videos of the local fishermen catching fish in the ice…
At the same ice field where we watched ice fishing, there were also other attractions like bike skating, ice ATV, and tubing. The bike skating was free, but the ATV and tubing were additional cost. I tried bike skating, and it was hard….
After playing on ice, we headed toward the famous pedestrian street of Zhong Yang Street, where there were lots of shops and food stands for all to enjoy. Before stopping by the street, we stopped by the Binzhou Railway Songhua River Bridge (濱洲鐵路), which gives you a nice view of the frozen over river. Of note, this is the longest bridge of the Chinese Eastern Railway that connects to the Trans-Siberian Railway. The bridge is right next to the pedestrian street, so it's worth a quick stop for a nice photo over the frozen river.
At Zhongyang Street, be sure to get some milk popsicles from Modern or 馬達爾冰棍 in Chinese.
After walking down Zhongyang street, check out St.Sophia Cathedral, the icon of Harbin.
After sightseeing, we ended up relaxing at a Japanese style onsen. Given the frigid temperatures of Harbin, onsen/bath houses are very popular in the city. The one we went to had saunas of various temperatures, outside and inside hot tubs, and communal areas where you can have a foot massage or sit down to a pot of tea. It was so nice!
For dinner, we had hotpot at the ice house/palace built by Shangri La. It is expensive but it's quite a unique experience!
We ended the night enjoying an acrobatics show. We were supposed to watch an ice skating show, but the show was on hiatus so we had to settle for a standard acrobatics/Cirque du Soleil type show.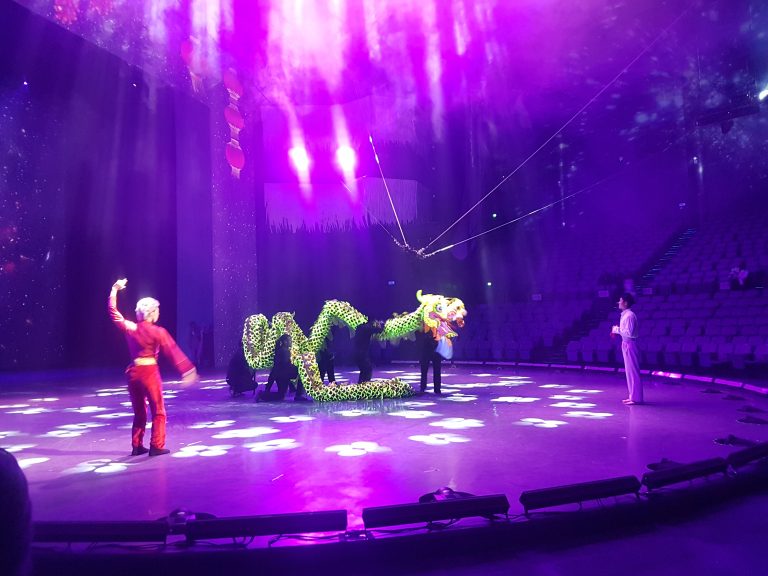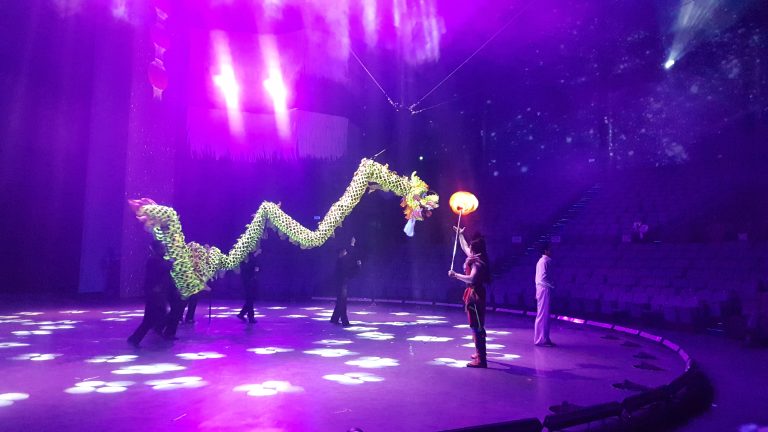 Day 4: Travel day – fly back to Hong Kong
On Day 4 we made our way back to Chang Chun so we can fly back to Hong Kong. Since the drive was already 3 hours long, we just drove, had lunch, and headed straight to the airport. If you are not with a tour group, I recommend making good use of this day and perhaps hit up the Harbin Opera House before leaving Harbin. If you do, please send me pictures, because I really wanted to go there!
Have you been to Harbin before? If so, what did you do there? Leave a message!